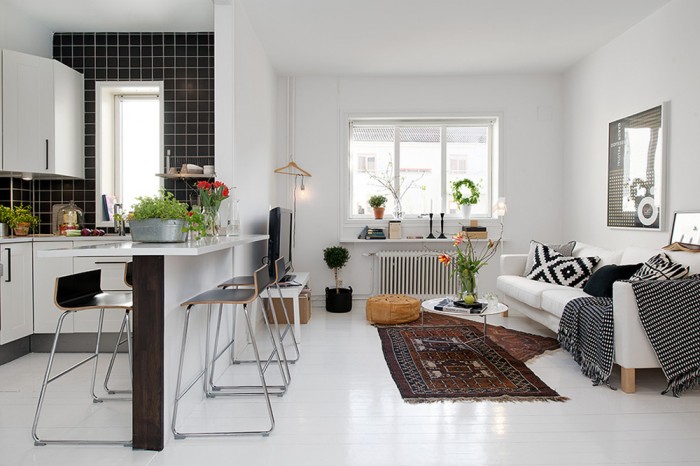 LIVING ROOM & PANTRY IDEA
Create this functional living room-pantry area in your SOHO apartment.
Opt for a black n white furniture to make it look more spacious and add some fresh plant for fresh ambience.
The black tiles on the pantry wall is a nice touch of pattern.
HOME OFFICE IDEA
In line with the black-n-white theme opted for the apartment,
you can decorate your home-office space with white table set and black chair.
You can also add other accecories in color black to emphasize the theme.
BEDROOM IDEA
The black and white pattern on the wall and for the rug compliment the white bedding and bedside table along
with the black bed lamp. It's all out black and white without looking boring.
BATHROOM IDEA
With black and white color palette all over the house, you can opt a slightly different hue for the bathroom.
A cool gray color with abstract patern combine with white make the space look clean and fresh.
For more information :
Call : 021-56985555
FB : SOHO Poci dan Pancoran
Path : SOHO Podomoro City
Ig : @sohopodomorocity
Website : www.sohopodomorocity.com
Images taken from pinterest.