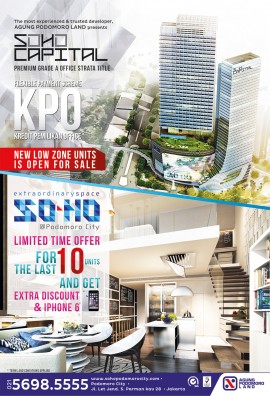 DO NOT miss our LAST 10 units of SOHO @Podomoro City!
Get Extra Discount & Iphone 6 for limited time offer.
And also, get the flexible payment scheme, KPO, for SOHO Capital. It's New Low Zone units are open for sale now!
Pay us a visit at SOHO Marketing Gallery
Tribeca – Central Park Mall
TUG floor unit 1-2
Jl. Let Jend S Parman kav. 28
West Jakarta
Or Call us : 021-56985555
Have a good day!
Details