A different way to design your SOHO @Podomoro City loft. Use a cool gray color scheme and use minimalist wooden furniture as well as for the stairs.
It's a unique way to style your SOHO @Podomoro City living room by placing some wooden logs to substitute a common coffee table. Combine it along with an industrial-inspired hanging lamp and railings for the mezanine.
This loft design shows the example of an urban living. You can make your SOHO @Podomoro City looks kind-of like this, especially by combining two corner units. The hanging lamp/artwork makes a great center of attention.
A modern and comfy black and white loft. The upper mezanine area separated by glass makes it look more spacious. Simple and easy to make it happen for your SOHO @Podomoro City unit.
Clear glass railing for the mezanine area gives a wide view and spacious ambience for the loft. Another alternative than using mirror wall. Opt for the same tone for the wooden furnitures and ceilings.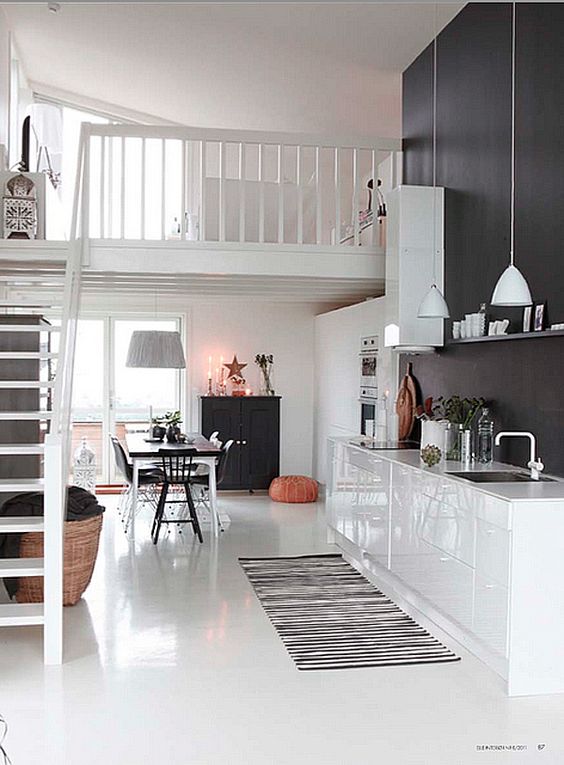 Simple black and white urban loft, with minimalist furnitures and lots of natural light. It's an easy design for your bachelor SOHO @Podomoro City loft.
For more information : Call : 021-56985555 FB : SOHO Poci dan Pancoran Path : SOHO Podomoro City Ig : @sohopodomorocity

Images taken from pinterest